Date: Wednesday 10 May 2017
Time: 9:00am - 1.00pm
Venue: The Ace Hotel, 100 Shoreditch High St, London E1 6JQ
Overview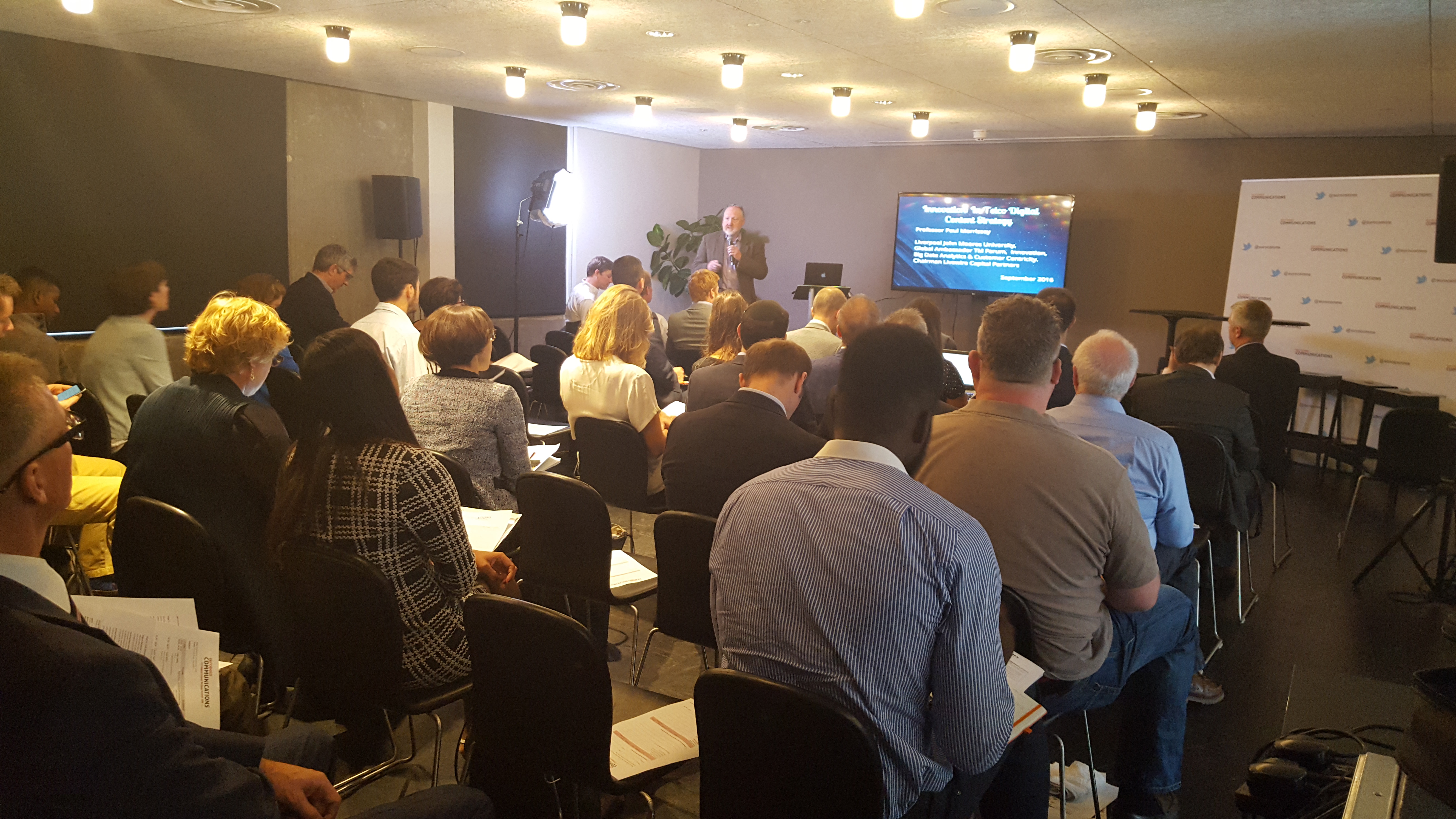 European Communications' sixth annual customer experience seminar brings together a range of industry experts to discuss the latest best practice in this key operational area.
The title of the event is "Intelligent Customer Engagement" and we're looking to focus on the importance of telcos using data to improve customer service.
Topics discussed will include what telcos are doing right and wrong, and what they need to focus on over the next 12 months. Speakers will also outline their customer experience strategy, the challenges they face and plans for the future.
This free-to-attend, half-day event is a great chance for operators to learn from leaders in the field and network with executives from across the telecoms industry. You can read more about the speakers and the agenda in the tabs above.
The event takes place at The Ace Hotel, Shoreditch, London, from 9am-1pm followed by a networking lunch on 10 May 2017.
To discuss sponsorship opportunities contact the commercial team on +44 (0) 208 7521601 or +44(0)7590 115805 or email Justyn.gidley@eurocomms.com
Speakers
Dr Janne Ohtonen, Director of Customer Experience Management (CEM), Openet

Dr Janne Ohtonen joined us in early 2017 and currently serves our customers and us as a Director of Customer Experience Management (CEM). Before joining Openet, Dr Ohtonen held a number of senior Customer Experience and Engagement management and consulting positions within travel, retail and consulting industries. He has worked with companies such as Apple, Avios, British Airways, British Telecom, and Satmetrix. Dr Ohtonen is a published author and acknowledged thought leader in Customer Experience and Engagement areas.

 
 

Harsha Gowda Siddaveere, Vice President of Service Transformation and Strategy, Colt

 
 

Luka Baranovic, Director of Customer Experience Management, Hrvatski Telekom

 
 

Jo Causon, CEO of the Institute of Customer Service

Jo joined The Institute as its CEO in 2009.  Over the past seven years she has driven membership growth by 150 percent and established the UK Customer Satisfaction Index as the country's premier indicator of consumer satisfaction, providing organisations with an indicator of the return on their service strategy investment.

Jo brings a wealth of experience from the commercial sector, enabling her to put customer service at the heart of the Boardroom agenda.  She has extensive experience in the financial services sector having recently been appointed as a non-executive director to Aegon UK's independent governance committee and having previously spent more than 11 years working for organisations such as Aviva plc.  She has also held director roles in brand and business consulting, policy development and research for City and Guilds and the Chartered Management Institute.

Jo focuses on demonstrating a clear link between employee engagement, customer service strategies and organisational performance.  Working across the public, private and voluntary sectors she provides strategic advice to Boardrooms to raise the standards of service provided by UK organisations and to provide evidence of the connection between customer satisfaction and operational efficiency and profitability. 

She has worked with politicians across all sides of the House focusing on the impact that service has on the UK economy and productivity.  As a result she is a regular commentator on national media and has been called to give evidence at the Public Administration Select Committee inquiry into complaints handling.

 

Marc Smith, Editor, European Communications

Marc is a journalist and editor with over 10 years ' experience in a wide variety of business sectors. Since helping to re-launch European Communications in 2011, he has specialised in the strategic direction of the telecoms industry, looking at how European telcos need to change if they are to prosper in this challenging yet exciting sector. He also oversees European Communications' sister title, Mobile Europe.

 

Dan Moross, Director of Customer Experience, Moo.com  

Dan Moross is Director of Customer Experience at moo.com - an online print provider, making it simple for companies of all sizes to create beautiful, expertly crafted business stationery and promotional materials that'll help start conversations, open doors and strengthen relationships. Since joining MOO as their first customer service agent, Dan has built a highly engaged team of 50+ support specialists across 3 locations in London and the United States.

Dan's principal responsibility is to ensure customers are delighted with their entire MOO experience - from creating their personalised products online, through to the final package they receive. Armed with the MOO Promise, which is aligned with the company's overarching brand values, it's clear that MOO understands how important it is to have a customer focused team that sits at the heart of the company, committed to helping customers along their journey.

"We'd like customers to be satisfied of course, but we'd prefer it if they were absolutely thrilled with our products and services. We'll move heaven and earth to make sure customers get exactly what they want, when they want it - or their money back" - The MOO Promise"

 

 Ms. Mariana Machado, Customer Behaviour Director, Accor Hotels

Customer Marketing Specialist, with more than 10 years of expertise in marketing strategy and CRM. Brazilian, Mariana has  accepted the challenge of moving to France, in order to implement a Customer Behavior & Marketing Department in the international hotel chain:  Accorhotels.  Managing a 60M contacts database in more than 92 countries, her main challenge is to implement the customer centric strategy within the help of customer data, bringing the customer information to the center of strategic decisions inside the company.  She is also Co-founder of "Our Customer Manifesto", a think tank that stimulates the debate about Customers and shares experiences throughtout the professional world!   

 
 
*More speakers may be added so please check back for updates!
To discuss sponsorship opportunities contact the commercial team on +44 (0) 208 7521601 or +44(0)7590 115805 or email Justyn.gidley@eurocomms.com
Venue
The Ace Hotel
This half-day seminar will take place within the Ace Hotel, Shoreditch High Street.
Ace Hotel
100 Shoreditch High Street
London
E1 6JQ
Nearest stations: Shoreditch High Street, Old Street, Liverpool Street
View map 
Attendees
European Communications seminars are aimed at senior level decision-makers and managers at network operators.

The seminar is a must-attend for:
Business leaders and decision-makers (CEOs, CMOs, COOs, GMs, Presidents)
Technology executives and decision-makers (CTOs, CIOs, CSOs)
Strategy, operations and IT executives
You can view videos from previous Customer Experience seminars here.

The seminar provides an excellent opportunity to network with fellow professionals, share ideas and discuss the key trends affecting your role and the wider telecoms industry.
Register
What does free registration include?
Hear the latest innovations and strategies in customer engagement
Put your questions to our panel of experts
Ample networking opportunities with your peers from the telco community
Catering and refreshments throughout the morning and networking lunch
Access to the post event presentations
To discuss sponsorship opportunities contact the commercial team on +44 (0) 208 7521601 or +44(0)7590 115805 or email Justyn.gidley@eurocomms.com
Sponsors and Media Partners:

* This seminar is free for operators. All registrations will be approved by European Communications and suppliers/vendors who wish to attend will be charged £125+VAT.